A unique and complementary service that improves the shopping experience, generates revenue and builds customer loyalty.
Services with fixed prices for travelers. Four categories to choose from; Drivers interpreters, tour guides, and lawyers.
With simple booking for travelers: with the ability to plan and book an entire trip through one website making the shopping experience for the user much more convenient.
A program for partners and affiliates with different integration options, several of which do not require technical knowledge. From textlinks to deep integration with APIs that enable real-time reservation from the affiliate / partner's website.
A very attractive business model for tour operators (OTA, GDS, etc.), hotels, airlines, tourism blogs, and more.
The largest international network of local professionals in emerging countries, so travelers can enjoy a unique and safe experience.
+80
EMERGING COUNTRIES ON 4 CONTINENTS
+350
CITIES AROUND THE WORLD
+16000
AVAILABLE PROFESSIONALS
Offer a unique online service to your clients that they have never seen before
WHY JOIN
To broaden your range of services, generate more traffic, and increasing customer loyalty.
No other platform offers this unique type of service.
WHAT CAN I EXPECT
A profitable model without high costs or maintenance.
Between 10% and 30% commission on the net income of Servantrip.
A wide range of visual options.
HOW DOES IT WORK
Access to our banner catalog, bulletin and newsletter solutions, personal support via email. API documentation, etc.
Three integration options to choose from
By inserting a link in the email or newsletter using a simple API integration with real-time access to search options by professional and destination city, with price simulation and immediate booking. In addition to the following integration options, we are also open to additional forms of cooperation. Register with us and let us help you increase your value to your users as well as generate income.
Textlinks
Do you have a newsletter? Are you using acknowledgment or confirmation emails when users purchase or register on your website? Are you writing content in which you can include a link for our website?
We can offer you personalized links that you can include in your content. It is a simple and non-intrusive way to generate traffic as well as a profit for your business on every purchase.
Banners, Rich Media, Contests, etc.
We can offer you a portfolio of banners in different languages and sizes for each one of our four service categories.
If you want your website to have a unique or personalized look&feel, please contact us to see how we can help you provide the best service to your customers, and at the same time generate more traffic to Servantrip.
We can also provide you with vouchers and coupons for discounts in order to create contests among your users and customers.
API
The API protocol, RESTFul, allows the searching and booking of services directly from your website, and operates with a variety of dynamic websites that are available in JSON or XML format.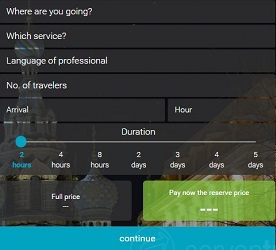 THE SERVANTRIP EXPERIENCE
SELECT A CITY, CHOOSE A SERVICE, AND BOOK. IT'S THAT EASY!
Advanced and flexible technology for our most complete integration model
High availability and scalability servers equipped with a load balancer, allowing fast and reliable information distribution.
The searching and booking features are faster and more efficient.
–
REGISTER AS A PARTNER
Become a Servantrip partner and start increasing your income. You will have the opportunity to offer our service catalog to your audience, and not only offer them the best price, but also build customer loyalty.
Partnering with Servantrip is completely free of any costs or maintenance. You can unsubscribe at any time you like. And best of all, you will receive between 10% and 30% commission from our net earnings.